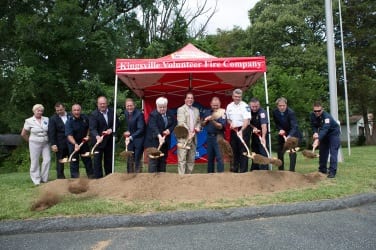 Ground has been broken.
Baltimore County Executive Kevin Kamenetz joined President Bob Chaney, Councilman David Marks, Captain Don Coster, Fire Chief Kyrle Preis, members of the Kingsville Volunteer Fire Company (KVFC), state and federal representatives, and community members to break ground Tuesday on the $2.9 million renovation and expansion of Kingsville Volunteer Fire Company.
Baltimore County has committed to supporting the Kingsville VFC with a contribution of $2.5 million. The project will give KVFC extra engine bays, updated kitchen facilities, bunk rooms and locker rooms. The last capital improvements to the station were made in 1985.
Story continues below
The Kingsville VFC was established in 1954 and ran its operations out of a founding member's barn, located on Goetner Road. In 1956, the existing fire station was built by founding members and neighbors of the community. The company has more than 150 members and is one of the best-performing volunteer companies in Baltimore County.
The KVFC operates two fire engines, one Advanced Life Support (ALS) ambulance/medic unit, one Heavy Rescue Squad, one large-capacity tanker, one Swiftwater Rescue Team and two support utility vehicles.
Facebook Comments