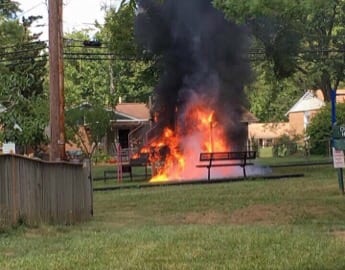 Crews are on the scene of a fire at a playground in Joppa.
At just after 3:15 p.m. on Wednesday afternoon, firefighters responded to the 200 block of Chell Road, 21085.
At the scene, emergency personnel found playground equipment that was on fire.
The Joppa-Magnolia Volunteer Fire Company has responded to the scene and is requesting assistance from the Maryland State Fire Marshall as well as from Harford County Parks & Recreation.
Story continues below
There has been no word on any injuries.
Facebook Comments