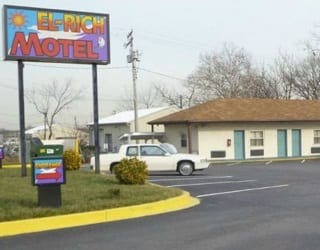 UPDATE; 6/30/2017; 11:35 a.m. – Police have arrested a Nottingham man in connection with this stabbing – details here.
UPDATE; 6/27/2017; 3:45 p.m. – Police now believe that the suspect approached one of the victims outside of the motel and was escorted to the motel room where a second victim was located. An altercation between the suspect and victim in the hotel room ensued, resulting in the suspect using a knife to stab that victim. The other victim was cut while he attempted to restrain the suspect for police.
The suspect fled the scene and encountered a third individual sitting outside of one of the motel rooms. The suspect stabbed this third individual in the upper body before fleeing the location. This victim remains hospitalized in serious condition.
Police continue to follow leads regarding possible suspect information. Anyone with information regarding this suspect is asked to contact police at 410-887-5000.
Original story below…
——
Three men were injured in an early morning stabbing at the El Rich Motel in the 8200 block of Pulaski Highway.
Story continues below
Authorities say all three men were in a motel room around 2:30 a.m. on Tuesday when another man knocked on the door. After a brief exchange, the man pulled out a knife and began stabbing the three victims.  The suspect then fled the scene.
A 26-year-old man suffering life-threatening stab wounds to the upper body is reported to be in stable condition at an area hospital and is expected to survive his injuries. The two other victim suffered minor injuries and are also being treated at area hospitals.
Police continue to investigate this incident to determine motive and suspect information.
Anyone with information is asked to contact police at the White Marsh Precinct at 410-887-5000.
Facebook Comments