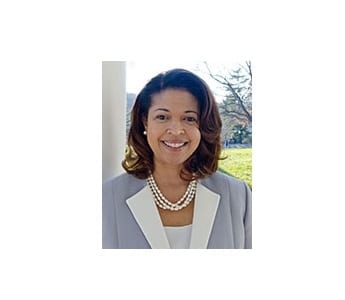 Towson, MD – Verletta White, chief academic officer of Baltimore County Public Schools – and a graduate of the school system, has been named interim superintendent by the Board of Education of Baltimore County.
Her one-year term will begin on July 1, 2017, pending approval from the Maryland State Department of Education.
"Mrs. White has served BCPS with distinction for more than 20 years," said Board Chair Edward J. Gilliss. "As a district-level administrator for more than a decade and as the chief academic officer for the last four years, she has been an integral part of both ensuring the stability of the school system and accelerating the academic progress of its students. She focuses, always, on enhancing the classroom experience for students and teachers. The Board looks forward to working with her as we continue to build on the school system's advances."
A dynamic and focused leader, White is responsible for defining and communicating the vision of the school system while directing a division of more than 500 curriculum and student support staff. In support of increased student achievement, White works with the superintendent to oversee four community superintendents who facilitate alignment and implementation of curricular programs and student services.
White, a Baltimore native who attended Woodmoor Elementary and Woodlawn Middle schools before graduating from Woodlawn High School, began her teaching career in 1992 as an elementary school teacher in Baltimore City. She joined BCPS as a teacher in 1995 and served as a school-based administrator from 1998 – 2006. White assumed her first central office position in 2006, as the coordinator of professional development. In this role, she drew upon her classroom teaching and mentoring experiences to foster the professional growth of teachers and administrators on a system level. As a member of the superintendent's senior and executive staff since 2006, White has served BCPS in a variety of capacities: executive director of professional development; area assistant superintendent for the Northeast Area; and assistant superintendent for elementary schools.
Advertisement

White served as an adjunct professor in school improvement leadership for Goucher College and is a state and national presenter on topics such as professional development, the transformation of teaching and learning, and leading through change in a digital era. She also is a member of the RTM K-12 National Advisory Committee and the Center for Digital Education Advisory Committee.
White holds a Bachelor of Science degree in education from Towson University, a Master of Arts degree in leadership in teaching from Notre Dame of Maryland University, and she is a doctoral candidate in urban educational leadership at Morgan State University. She and her husband are the proud parents of two BCPS students, and the family lives in Freeland, in northern Baltimore County.
Facebook Comments