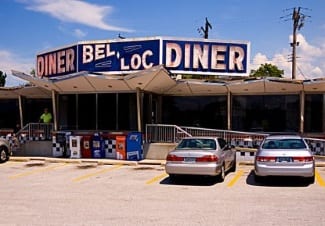 UPDATE: The Bel-Loc Diner reached out to NottinghamMD.com to clarify that "nothing is official" at this point. While it does appear that the diner will be closing at some point, talks with Starbucks are ongoing.
Original story below…
——
A Baltimore County landmark will soon be closing its doors.
The Bel-Loc Diner, located at the corner of Joppa Road and Loch Raven Boulevard, will be closing for good.
The news was confirmed via a Facebook post on Monday.
The 52-year-old establishment will likely be torn down and will eventually reopen as a Starbucks over the course of the coming months, perhaps as soon as this fall.
Here is the message that was posted to Facebook on Monday afternoon:
First and foremost, we'd like to thank our millions of customers, friends, family and employees that we've had over 52 years. While it was not an easy decision to eventually close, we are currently working with Starbucks to take over our location. There is nothing official yet but we ask that you support the owner's decision on this. Unfortunately, it will not be possible to preserve the current structure. Starbucks has been a great company to deal with and we only see positives moving forward as they will help to revitalize the area and become an asset to the community. We look forward to seeing you for breakfast or lunch prior to our closing.

Advertisement

Facebook Comments